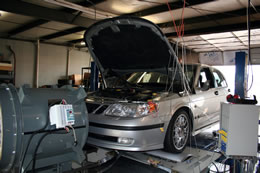 Rates:
Basic pulls Wideband Tq and HP with printout 3-5 runs $75
Tuning Hour $95 Time to find some horses.
Bulk time $95 1st hr, $60/hr beyond Per session
Leaded Race Fuel o2 surcharge $5/hr
Data Package to review at home included.
extra o2 port weld in pre cat, includes plug $35ea
All runs include HP/Tq Printout, Wideband o2, Full Fans, Basic vehicle safety check and Rpm pickup for torque.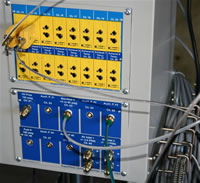 Optional data collection
Air/Fuel: Dual Innovate wideband o2 sensors. Use to measure each bank of a "V" engine or for redundancy in measuring critical applications.
TEMP: Oil temp, Charge temp, plus 14 others (examples include Exhaust temp, turbo exit temp for calculating intercooler efficiency. Both fluids and gasses can be recorded. K Type Thermocouples accomodated.
PRESSURE: 0-150psi oil or fuel pressure, -15 to 85psi x2 for Manifold pressure, -2.5 to 2.5 psi x2 for intake restriction etc.
We can accomodate Front or Rear wheel drive vehicles to 1800+ hp.
All runs have set start Mph and End Mph, with the eddy current power absorber active we can also control the length of the test in seconds. ex 20-95mph over 10 seconds. Basically whatever for your vehicle to better simulate real world acceleration rates.
Using the more advanced functions of the steady state control we can vary load or RPM which is very useful for mapping fuel injection in a controlled environment. Where it gets fun is using the "Step" tests measure the actual torque without inertia of the drivetrain being a factor. This is something an inertia only dyno cannot do. This means wheels or a big brake kit will not influence the measured power. Additionally the dyno room has cross ventilation and large fans. This is just a quick overview. You are invited to stop by for a tour and to discuss your project.
Specifications of our Superflow Autodyn 30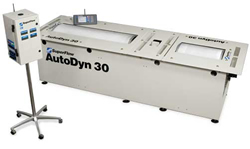 | | |
| --- | --- |
| Speed Rating | up to 225 mph (362 kph) |
| Minimum tire spacing for drag cars | 26" |
| Control Accuracy | ±0.1 mph (0.2 kph) |
| Maximum Wheel Power (inertia test) | 1200+ hp (894 kW) |
| Peak Power Absorption (Click For Graph) eddy current | over 900 hp (671 kW) |
| Data Collection Temperature (K Type Thermocouples) | 16 Channels |
| Data Collection Pressure | 5 Channels |
| Air Fuel Ratio (Wideband) | 2 channels |
| Secondary Fan (Variable Speed) | 3hp Conventional |
| Main Fan (Variable Speed) | 10hp Axial Turbine |
To make an appointment CONTACT US If you email try to include contact phone number. We are normally open 8 to 5 M-F but we can do most evening and weekends by appointment with a little lead time. If it is really cold just remember how cold it gets with the exhaust fans...
Download Run Viewer.exe here (right click "save as") Download Viewer Manual .pdf (right click "save as")
Gallery of Dyno charts and some of the interesting cars tested GALLERY CLICK HERE