Starting with a clean Black 3 door 1995 900i Manual the goal has been to see how much power we could make as cheap as possible with a $500 crashed car.
Power: sad
Fuel: Gas best 87 you can buy
1/4: ha ha
---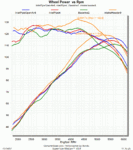 Dyno: You can see the changes starting with a catback as baseline and adding intake parts and header to gain power in the midrange where it is most usable. Dig in the Gallery for more of the graphs. Discussion to come.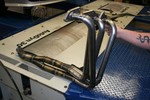 Header: With the long primaries the goal was to make more midrange torque in the usable range since high rpm power is restricted by head and cam flow. Expensive changes. ;)

-95 900 2.3i "Princess"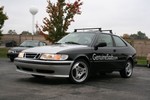 2.3 Liter N/A Image Gallery
---
Chassis:
7/8" Rear sway bar
Viggen Rear springs
6-point subframe brace
Custom strut brace
Steering rack brace/clamp
Road Hugger "Rage" 16s

Gearbox:
Lightened Flywheel
Factory Viggen Pressure plate
Viggen clutch disk
Poly Engine / Trans mounts

Body:
Kustom Color scheme.. ;)

Engine:
2.3L Stock crank
Balance shafts removed/plugged
Taliaferro Long tube Header 4-2-1
Viggen Rear muffler
Open air intake
Resonator delete pipe.
2.0L Turbo Intake manifold

Turbo Injectors
T5 EMS conversion and tune with Maf deleted .


This has been a fun project car for experimentaion only.